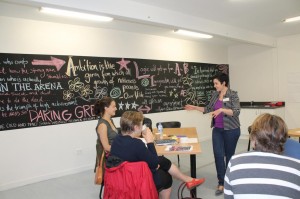 Are you interested in finding out what design thinking is all about and how it can benefit your work and personal life? Are you looking for some new tools and techniques to help you be more creative? Would you like to improve the products or services your organisation delivers?
Then come and join an upcoming design thinking crash course! It's a 2-hour long, fast-paced, hands-on workshop which will take you through a full design cycle and provide you with an opportunity to try out design thinking. No artistic talent, design experience, or knowledge about design thinking is required at all! You just need a willingness to participate – it'll be fun, noisy and highly interactive! The crash course utilises the methodology and materials developed and made available by the Institute of Design at Stanford University (the d.school).
During August I'll be leading two crash course sessions, both will be held at the Entry 29 co-working space (17 Childers St, Canberra):
Saturday 2 August 2014, 10am-12pm. This workshop is part of the YWCA of Canberra's Women Out Front+ professional development series. Both YWCA members and non-members are able to attend (discount available for members). Cost – $20 (members) / $25 (non-members). Register for this workshop here.
If you have any questions, want to find out more, or are interested in running a crash course for your organisation or community group, get in touch via email at hello@stickynote.co.